At Studio ABD, we look at the world through a child's eyes.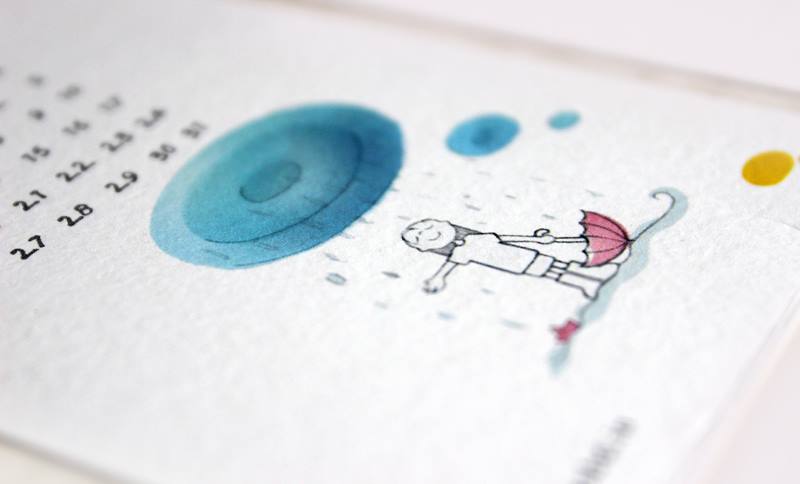 We don't just see the clouds, we see fluffs of cotton candy that the Gods are relishing. We don't just see balloons, we see little floating colours that want to explore the world.
 We see possibilities in every opportunity. There are beautiful stories to be unravelled in the most ordinary things around us, and we love narrating them in our own fresh, quirky style.
We believe in letting our imaginations run free and wild, helping us think of new design stories, which connect brand and user lovingly.
http://storeabd.myshopify.com/products/studio-abd-calendar-2016 
Anisha Motwani's  book 'Storm the Norm' tells stories of innovation and ingenuity. Stories of 20 brands that are part of our daily living. Unknown details of how these known brands wrote or rewrote the norms of their respective industries and brought in unprecedented change and vibrancy.

"Elegance of simplicity" is how I define Studio ABD's style- the magical simplicity on the other side of complexity. Storm the Norm cover is both eloquent and beautiful. It captures the Storm the Norm concept in a very charming way." – Ranjan Malik
To capture this core idea, we decided to find design narrative in a daily Indian object, which hasn't changed for years.
We also wanted the book cover to be simple, minimal yet provocative and iconic. The ubiquitous black bicycle with jet turbines, makes the point of 'storming the norms' in an irreverent, light hearted manner.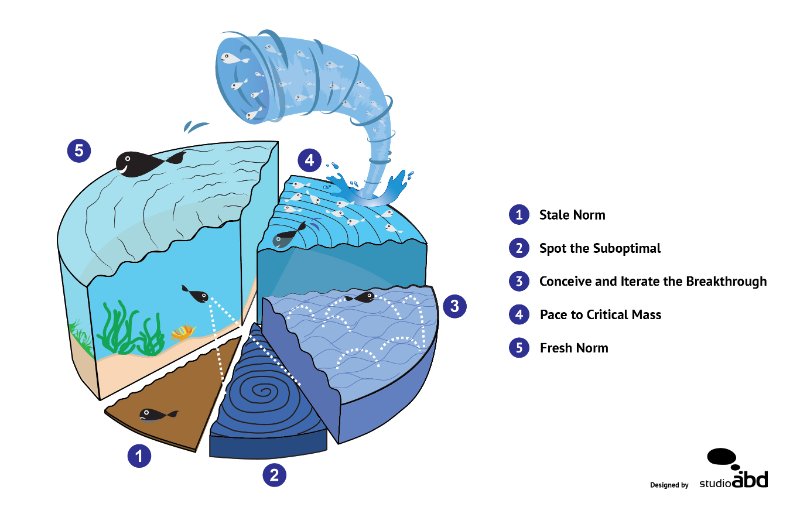 Storm the Norm methodology model, created by Ranjan Malik 

Order your copy of Strom the Norm here http://goo.gl/dnQ4Z0

Paperboat drinks are more than just flavoured beverages. They are about bringing timeless childhood memories alive with every flavour. Each drink emulates story of memorable taste & experience. Paperboat design language is clean, minimalist, simple, embodies brand personality of being innocent & pure. Paperboat invited Studio ABD to design their festive gift box, we went down the memory lane and found something which truly holds our memories and stories – an old trunk. Old trunk is an icon of memories & cherished objects that one has preserved from their past- trophy, photo album, diary, certificates, school dress etc. We chose tin as material as it would remain with users for many years, holding priceless little life things. The trunk full of memories is packed with 9 packs of soothing Aamras. Preserve the memories of celebration in a reusable contemporary trunk this festive season. Studio ABD is a proud design partner with Ezetap in creating revolutionary product. Economics times covered the story on the new product today. Aug 14 2014 : The Economic Times (Bangalore) Handheld Devices Now Pack a Punch Bangalore-based Ezetap, which makes it possible for merchants to accept payments on credit and debit cards on its handheld device, has packed in a bunch of new features to extend its utility. Opening a bank account through Aadhaar, checking one's bank balance, or transferring cash are a few of the things that the device can now offer to consumers. "This could allow even merchants to become business correspondents for banks, by helping people open accounts, support tasks like cash-in, and cash-out," said Abhijit Bose, chief executive officer of Ezetap. The device, which is used by banks like SBI, HDFC and Citibank, could also do facilitate peripheral things one would do at an ATM ­ check balance, transfer money, get a mini-statement etc. "We are confident that such solutions will be a key component of the future of Inclusive Banking in India," said AP Hota, CEO of National Payments Corporation of India. The new add-ons come at a time when the Narendra Modi-led NDA government is expected to unveil the Sampoorn Vittiya Samaveshan or the comprehensive financial inclusion program on August 15. A recent report by the Department of Financial Services, noted that while the Indian banking industry has grown the number of branches in rural areas has not kept pace with the rising population and the need for accessible financial services. Ezetap aims to address this gap in the market. "We hope Ezetap is to have at least one mobile point of sale within five kilometres of every household," said Bose, 41, who has a management degree from Harvard University, whose company now employs a 100 people. Ezetap has offices in Bangalore. Mumbai and Delhi and recently started operations in Kenya. It raised $8 million (Rs 49 crore) from Helion Advisors, Social+Capital and Berggruen Holdings earlier this year. Urban microlender Janalakshmi Financial Services is one of the non-banking finance companies to have introduced the Ezetap device to encourage greater savings. "The results are encouraging and the solution has potential to extend to other applications as well," said Ramesh Ramanathan chairman of the Jana Group.